Have you ever wondered what you get for your dues? The pie chart below is a breakdown of how ASHA uses dues revenue to better serve you, our members.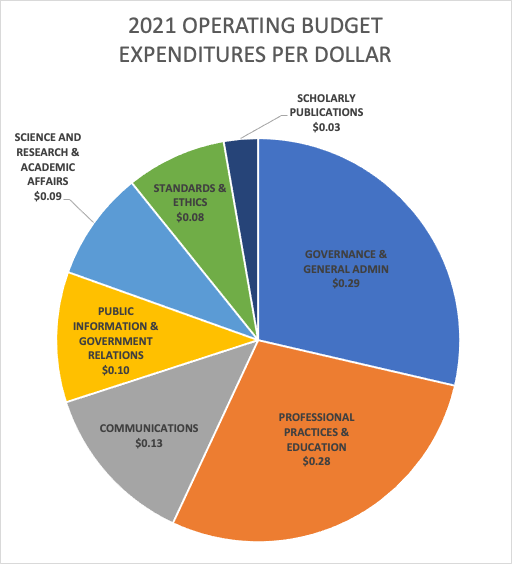 There are many departments and programs represented by the categories in the chart. Below is a list of examples from each category.
Governance and General Administration
Building Services
ASHFoundation
Governance
Postal Operations
Communications
ASHA Now e-newsletter
The ASHA Leader*
ASHA Voices Podcast
ASHA Website*
NSSLHA*
Retention and Recruitment*
Special Reports and Brochures*
Student Retention and Recruitment
Professional Practices and Education
Assistants
Audiology
Continuing Education*
Convention*
Educational Programs*
International
Multicultural Affairs
Speech-Language Pathology
Special Interest Groups*
Public Information and Government Relations
Action Center
Government Affairs and Public Policy
Public Relations
Science and Research and Academic Affairs
Academic Affairs
Research
National Outcomes Measurement System (NOMS)
Scholarly Publications
AJA*
AJSLP*
JSLHR*
LSHSS*
Standards and Ethics
Clinical Certification
Council on Academic Accreditation*
Ethics
Specialty Certification
*These programs are revenue generating, covering a percentage of, or fully covering, all expenses associated with running and maintaining them and contributing to keeping down the cost of ASHA membership dues, which have not been raised since 2010.