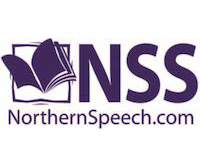 Northern Speech Services (NSS) is dedicated to being your Speech, Language & Swallowing Headquarters!
Established in 1972 to meet the diverse needs of speech-language pathologists, we offer clinically relevant online courses, live courses, standardized approach for the MBS study, and comprehensive, innovative and highly effective therapy materials. NSS is in the business of getting you where you want to go—whether it be to gain knowledge, practical applications, high quality materials to assess/treat your clients, or all of the above. With a passion for high standards, we look forward to serving you with excellence and enthusiasm.
Over 150 courses by top clinicians in the field.
ASHA Approved CE Provider.
Complete course anytime.
Keep access to course content, even after testing.
Stress-free testing! Preview whenever you want. Take as many times as you need.
For schools, clinics, and hospitals.
Durable, long-lasting, and proven to be effective.
Complete programs that are fun, engaging, and designed to hold attention.
Made in the USA.
MBSImP™ – Modified Barium Swallow Impairment Profile
The first standardized approach to instruction, assessment, and reporting of physiologic swallowing impairment.
A standardized protocol to interpret and communicate swallowing impairment in a manner that is objective, specific, consistent, and accurate.
More than 3,200 of your SLP colleagues have completed the MBSImp™ standardized training and reliability testing.
Professional development by top clinicians in the field.
Hosted across the United States and Canada.
To learn more, please visit NorthernSpeech.com.