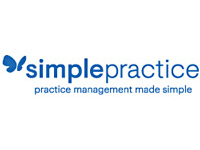 Company Overview
SimplePractice is the all-in-one HIPAA-compliant practice management solution trusted by more than 169,000 health and wellness practitioners. From starting to growing a thriving practice, SimplePractice streamlines your workflow with fully integrated features such as telehealth, easy online scheduling, payments, and insurance billing, centralized client care on the Client Portal, a robust library of templates and treatment plans for simplified note-taking, and so much more.
Features and Benefits
SimplePractice's HIPAA-compliant software platform lets you run your private practice your way. Beyond the ebilling and paperless documentation, the robust platform offers:
Appointment reminders
Telehealth
Online scheduling
Insurance claim filing
Secure messaging
Top-rated mobile app
Integrated website builder
Client portal
And so much more
Exclusive Benefits for ASHA Members
As a member of ASHA, you can try an exclusive 2 month free trial offered to new customers. Start your trial today to see just how simple building your dream private practice can be.
Additionally, SimplePractice will provide specialized support and business-building resources specifically for the ASHA community in the areas of entrepreneurship, insurance, marketing, and how to maintain one's quality of life while caring for others.
Visit to learn more: https://www.simplepractice.com/partners/asha-conv-23/
For more general information on SimplePractice, visit SimplePractice.com and join the conversation on LinkedIn, Facebook, and Twitter. For the latest in health and wellness, check out Pollen Magazine by SimplePractice.